Ava Risk Group Limited (ASX: AVA) ("Ava Risk Group" or "the Company") is pleased to provide the following update on its Q2 FY2023 trading performance:
Expected H1 FY2023 revenue of $13.6 million, within guidance range and up 50% compared to the prior year continuing operations.
Q2 sales order intake of $6.5 million, resulting in H1 sales order intake of $14.4 million. This was up 47% compared to the prior year, and up 16% excluding Illumination orders from GJD (acquired in August 2022).
Confirmed sales order backlog of $2.6 million for fulfilment predominantly during Q3 FY2023.
Receipt during Q2 of strategically important orders relating to the Company's conveyor monitoring solution and further expansion in the North American energy market.
Continued strengthening of the senior management team with Mal Maginnis commencing in the role of Group CEO in January 2023.
Following the acquisition of GJD in August 2022 the Group has three operating segments:
| | |
| --- | --- |
| Detect | Manufactures and markets 'smart' fibre optic sensing systems for security and condition monitoring for a range of applications including perimeters, pipelines, conveyors, power cables and data networks |
| Access | Specialist in the development, manufacture and supply of high security biometric readers, security access control and electronic locking products. |
| Illumination | Specialist in the development and manufacture of illuminators, ANPR cameras and perimeter detectors. |
Incoming Ava Group CEO Mal Maginnis commented: "I'm delighted to have joined the Ava Group and look forward to accelerating growth in both revenue and earnings. These results illustrate the momentum being generated in the business, highlighted by the significant uplift in sales order intake which has translated into revenue growth. Sales order growth was achieved in both our Access and Detect businesses and was further accelerated by the addition of our Illumination business following the acquisition of GJD. The technology platform underpinning the Company's customer solutions is market-leading and I am very confident that with continued customer focus we can deliver sustainable revenue growth and operating leverage during the second half year and beyond."
Q2 FY2023 confirmed sales orders
Sales performance during the second quarter remained strong with order intake of $6.5 million.  This has resulted in sales order intake of $14.4 million for the first half, representing growth of 47% on the prior comparative period, 16% if current year orders from GJD are excluded.   Pleasingly, sales order intake for both the Access and Detect business segments grew by 21% and 15% respectively, demonstrating continued progress on Ava's strategy of expanding the sales pipeline in key markets and improving conversion rates. The addition of Illumination segment sales following the acquisition of GJD in August 2022 has accelerated the growth in sales order intake during the first half.
Sales orders received during Q2 included a number of strategically important milestones:
An additional order for Aura-IQ, one of the Company's advanced deep learning solutions focussed on conveyor monitoring, for deployment at Ferroport, Brazil, a joint venture between Anglo American and Pruma Logistica responsible for the operation of an iron ore terminal at the Port of Acu. It builds on the first order received for Aura IQ during Q1 from a leading global conveyor manufacturer and illustrates the global reach of the solution.
An additional order for deployment of Ava's Fibre Optic Detection System to protect a third critical asset at a major North American energy facility, replacing a competitor's existing technology as part of an upgrade program. Further orders from this facility are expected during the second half, demonstrating the strength of the Company's solutions and validating its strategy to focus on the North American energy sector.
As at the end of December 2022, Ava carried an order backlog of $2.6 million which represents sales orders received that are still to be fulfilled.  It is anticipated that most of these orders will be fulfilled during Q3 FY2023.
Chart 1 – Sales Order Intake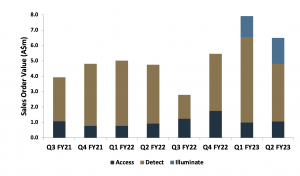 Outlook
Management reaffirms that it expects revenue during the second half of the financial year to exceed the first half due to:
Six-month contribution from GJD compared to five months during the first half which will drive increased revenue in the Illumination business.
Growth in OEM / distribution channel revenue for the Access business.
Growth in the Detect business attributable to improving sales pipeline conversion and expansion of condition monitoring opportunities.
Further revenue guidance for the second half of the year will be provided in the Q3 FY2023 Trading Update based on Q3 sales order intake.
ENDS
Approved for release by the Board of Directors.
For further information, please contact:
Investor & Media Enquiries
Alexandra Abeyratne
Citadel-MAGNUS
aabeyratne@citadelmagnus.com
+61 438 380 057
About Ava Risk Group
Ava Risk Group is a global leader in providing technologies and services to protect critical and high value assets and infrastructure. It operates three business segments – Detect, Access and Illumination.  The Detect segment manufactures and markets 'smart' fibre optic sensing systems for security and condition monitoring for a range of applications including perimeters, pipelines, conveyors, power cables and data networks.  Access is a specialist in the development, manufacture and supply of high security biometric readers, security access control and electronic locking products. Illumination specialises in the development and manufacture of illuminators, ANPR cameras and perimeter detectors.  Ava Risk Group products and services are trusted by some of the most security conscious commercial, industrial, military and government clients in the world. www.avariskgroup.com